Frame conversion for Gates Carbon Drive

Frame Conversion for Gates Carbon Drive
Until now, installation of a Gates Carbon Drive belt drive system has required purchase of a specialist bike frame. While a number of manufacturers make frames suited for belt drive use, the range of available frames is still somewhat small. Or maybe you already own a frame but wish that you could use it with belt drive? Bike Knack is now happy to offer frame conversions from chain drive to Gates Carbon Drive belt drive. Frame modification is available for road bike or hardtail mountain bike frames in steel, alloy, titanium or carbon. For belt drive conversion, all frames will require a sliding rear dropout or eccentric bottom bracket to allow correct belt tensioning.  
Frame conversion for Gates Carbon Drive requires the insertion of a custom frame splitter in the seat stay. Without a frame splitter, belt installation is not possible, in contrast to the situation with a chain, which can be opened and rejoined around the chain stay. In frame conversion, a section of the seat stay is removed and replaced with a frame splitter matched to the seat stay diameter. Bike Knack uses a modifiable frame jig to stabilize the frame during cutting and installation of the frame splitter. After fitting front and rear sprockets of your choice, belt installation and tensioning can then proceed. Both internally geared hubs and single-speed configurations are compatible with this system.
Unfortunately, not all bike frames are suitable for belt drive conversion. For example, ovalized or tapered seat stays are unsuitable for use with this method of frame modification. If you would like to discuss a specific frame conversion, you can either use the Contact page, email Bike Knack on d.crow@optusnet.com.au, or phone Dave on 0437 017022.
­
­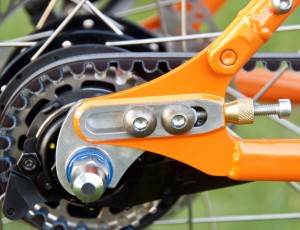 Sliding rear dropout with Gates Carbon Drive
­
­
Eccentric bottom bracket suitable for frame conversion
­