Revolutionizing Cycling
If you've bought a bicycle in the past 120 years, chances are it's been powered by a chain. While the trusty bicycle chain has done every cyclist well, Gates wanted to not only improve cycling, but revolutionize it. So they created the Gates Carbon Drive.
Gates Carbon Drive belts use carbon fiber in a urethane body. The belts don't rust, stretch or need oil, and last three times longer than a chain. Paired with Gates Carbon Drive sprockets, they provide the smooth ride cyclists want, without some of the downsides of the traditional bike chain. The Gates Carbon Drive system is stronger, quieter and requires less maintenance. It won't leave any marks on your pants and you'll never have to pull over to fix a dropped chain. Come to think of it, revolutionary might not even do it justice.
Gates Carbon Drive Parts
Bike Knack is proud to provide Gates Carbon Drive parts to individuals and dealers. We are also happy to provide detailed advice on choosing a system that will meet your needs. We can alter gear ratios or upgrade from CDC Mudport to CDX Centertrack. The CDX Centertrack system allows for easy belt alignment and lower belt tension, leading to longer bearing life and improving performance on less rigid frames. CDX Centertrack Blue, Black and now Red belts are available in 108- to 125-tooth lengths. 
CDX Front Sprockets (22- to 70-tooth) mount on standard 130 mm BCD 5-arm or 104 mm BCD 4-arm crank spiders, as well as Bosch or Pinion spline. CDX Rear Sprockets can be fitted to Rohloff, Nexus, Alfine, Nuvinci, Sram G8, Sram E-matic, 9-spline, 9-spline 6-bolt, Surefit 3-lobe and thread-on (freewheel and fixed) configurations. Gates also supplies CDX Cranksets for both manual and Di2 shifting. Tandem bikes can use a CDX Tandem Belt and 66, 69 or 74-tooth CDX Tandem Sprockets. Bike Knack also provides Gates Carbon Drive parts for CDC Mudport Belts, CDC Mudport Front Sprockets (5- or 4-arm, 46- to 60-tooth) and CDC Mudport Rear Sprockets (Surefit 3-lobe, Sram G8 and 9-spline 6-bolt).
Feel free to contact us with enquiries via the Contact page.
Get the job done right the first time

Your Brisbane Bicycle Mechanic
Are you looking for a Southside Brisbane bicycle mechanic? Do you find it hard to get to your local bike shop during opening hours? I offer a flexible, low-cost service out of my Salisbury workshop, with pride in quality and attention to detail. I am trade-qualified in the mechanical trades and have >20 years experience servicing mountain and road bikes, with mountain bikes a particular specialty. I am passionate about cycling and have a history of competing in road and mountain bike events across my adult life. I know the importance of a well-chosen and well-maintained bicycle, as well as the pleasure of testing your body on a hill, sprint, or technical trail.
Perhaps you're not sure what you need done? I am happy to offer advice and provide obligation-free quote estimates over the phone or by email. Standard prices (labour-only) are also available via my Pricing Table. Perhaps you have bought parts on the Internet but find you can't install them yourself? I will willingly provide labour for that. You may be looking to purchase a bicycle or part, but don't know what option would be best for you. I can provide an independent, unbiased perspective based on my experience with a wide range of bikes and a knowledge of their strengths and weaknesses. For those with an interest in belt-drive bicycles, I also offer a frame conversion service for Gates Carbon Drive. Belt drive is compatible with a single-speed setup or internally-geared hubs, and I can assist you in choosing the best system for your riding style.
If you need to box up a bike for a trip, or learn how to reassemble it after you arrive, I can help with that too. Call me on 0437 017022 or use the Contact page. All enquiries are welcome.
Frame conversion for Gates Carbon Drive

Frame Conversion for Gates Carbon Drive
Until now, installation of a Gates Carbon Drive belt drive system has required purchase of a specialist bike frame. While a number of manufacturers make frames suited for belt drive use, the range of available frames is still somewhat small. Or maybe you already own a frame but wish that you could use it with belt drive? Bike Knack is now happy to offer frame conversions from chain drive to Gates Carbon Drive belt drive. Frame modification is available for road bike or hardtail mountain bike frames in steel, alloy, titanium or carbon. For belt drive conversion, all frames will require a sliding rear dropout or eccentric bottom bracket to allow correct belt tensioning.  
Frame conversion for Gates Carbon Drive requires the insertion of a custom frame splitter in the seat stay. Without a frame splitter, belt installation is not possible, in contrast to the situation with a chain, which can be opened and rejoined around the chain stay. In frame conversion, a section of the seat stay is removed and replaced with a frame splitter matched to the seat stay diameter. Bike Knack uses a modifiable frame jig to stabilize the frame during cutting and installation of the frame splitter. After fitting front and rear sprockets of your choice, belt installation and tensioning can then proceed. Both internally geared hubs and single-speed configurations are compatible with this system.
Unfortunately, not all bike frames are suitable for belt drive conversion. For example, ovalized or tapered seat stays are unsuitable for use with this method of frame modification. If you would like to discuss a specific frame conversion, you can either use the Contact page, email Bike Knack on d.crow@optusnet.com.au, or phone Dave on 0437 017022.
­
­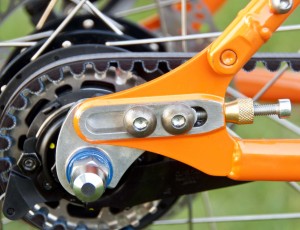 Sliding rear dropout with Gates Carbon Drive
­
­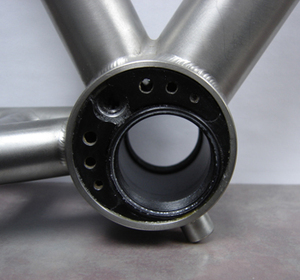 Eccentric bottom bracket suitable for frame conversion
­
Standard prices quoted include labour only; any parts required will be at additional cost.
Feel free to call and ask for a quote on any work not specifically listed, or leave a message via the Contact page.
Basic Service

Price

Includes the following:

Bike wash

Inspect forks for wear and function

Adjust headset

Adjust brakes to make drag-free

Adjust brake levers to equalize reach and take up stroke

Lube chain

Adjust and tune rear derailleur

Adjust and tune front derailleur

Inspect wheel hubs and adjust cones

True wheels and tension spokes in jig

Check all bolts for tension

Check and adjust tyre pressure

Check and adjust fork and shock pressure to rider weight

Safety check and test ride.

$100
Full Service

Price

Includes the following:

Bike wash including drivetrain degrease

Complete bike strip and rebuild

Replace gear cables, inner and outer, front and rear derailleurs

Service bottom bracket

Inspect forks for wear and function                        

Adjust headset

Adjust brakes to make drag-free

Adjust brake levers to equalize reach and take up stroke

Lube chain

Adjust and tune rear derailleur

Adjust and tune front derailleur

Inspect wheel hubs and adjust cones

True wheels and tension spokes in jig

Check all bolts for tension

Check and adjust tyre pressure

Check and adjust fork and shock pressure to rider weight

Safety check and test ride

$200
| Frame | Price |
| --- | --- |
| Bike wash and degrease | $40 |
| Bike build | $150 |
| Frame swap | $150 |
| Service pivot bearings on rear end | $100 |
| Replace pivot bearings on rear end | $150 |
| Brakes | Price |
| --- | --- |
| Install new brake pads, (per end) | $10 |
| Install new brakes (road bike, per end). Includes cable replacement and handle bar rewrap. | $50 |
| Install new brakes (mountain bike, per end). Includes disk replacement | $25 |
| Brake bleed (per end) | $30 |
| Brake lever adjustment to equalize lever reach and take up stroke, includes caliper alignment (per end) | $10 |
| Change brake cables (mountain or road bike, per end) |  $20 |
| Drive Train | Price |
| --- | --- |
| Bottom bracket change | $30 |
| Install new chain rings (each) | $10 |
| Change rear cassette | $10 |
| Bottom bracket service (if possible) | $30 |
| Change chain | $15 |
| Derailleurs and Shifters | Price |
| --- | --- |
| Adjust derailleur (per end) | $10 |
| Install new shifter and adjust (per end) | $20 |
| Install new cable set (road bike, per end) | $20 |
| Install new cable set (mountain bike, per end) | $15 |
| Install and adjust derailleur (front or rear) | $20 |
| Change jockey wheels | $15 |
| Suspension | Price |
| --- | --- |
| Fit new forks | $30 |
| Service fork, includes seal kit change, oil change in damper, wear inspection | $100 |
| Cut steerer tube and insert star nut | $20 |
| Service rear shock, includes seal kit change | $50 |
| Replace DU bush | $20 |
| For fork and shock tuning please call |   |
| Wheels | Price |
| --- | --- |
| True rim and adjust spoke tension | $20 |
| Change wheel bearings (per end) | $30 |
| Change free hub bearings | $30 |
| Hub service | $30 |
| Fit tyre | $10 |
| Fit tubeless tyre, includes sealant | $20 |
| Adjust wheel bearing cones | $15 |
| Fit new spoke and true | $30 |
| Wheel build | $70 |
| Cockpit | Price |
| --- | --- |
| Install handle bars (mountain bike) | $20 |
| Install handle bars (road bike) | $40 |
| Install headset | $20 |
| Headset service and adjust | $30 |
| Change bar tape (road bike) | $20 |